IDT公司的ZAMC4100是单封装的激励器和马达控制器,集成了高性能的ARM®Cortex™-M0 MCU,10位ADC,四个通用模拟输入,四个半桥驱动器,四个高边开关,用于电致变色(EC)镜控制的带可编输出电压(6位DAC)的输出缓冲器,用于外部温度测量的电流源,用于外部电阻传感器的可开关电压源以及LIN总线接口.主要用在汽车外部后视镜控制器,智能DC马达驱动器,激励器控制器,低压电系统的电源管理和白色家电的单片解决方案.本文介绍了ZAMC4100主要特性和优势,框图,汽车反射镜马达控制应用电路图以及ZAMC4100评估板主要特性,元件分布图和电路图与材料清单.
The ZAMC4100 Actuator and Motor Controlleris anintegrated, single package solution that features ahigh-performance ARM®Cortex™-M0* microcontroller(MCU), a 10-bit ADC, four general purposeanalog inputs, four half-bridge drivers, four high-sideswitches, one output buffer for electrochromatic (EC)mirror control with programmable output voltage (6bit DAC), current source for external diode-basedtemperature measurements, switchable voltagesource for external resistive sensors, and LIN (LocalInterconnect Network) bus interface.
This single-package solution with its rich diagnosticfeatures, optimized thermal performance, and LINbus interface, is well suited for automotive applications,such as high-end automotive exterior mirrorcontrollers, where small form-factor circuit boarddesigns and light wiring harnesses are required.
ZAMC4100主要特性:
• Two main operation modes
§ NORMAL Mode with all functionalityavailable
§ SLEEP Mode with very low currentconsumption (less than 80μA)
• 10-bit ADC for measuring various parameters
• 4 general purpose ADC inputs configurable forabsolute or ratiometric mode
• 4 low RDS (ON) half-bridge drivers and 4 lowRDS (ON) high-side switches
• Analog EC mirror output controlled via 6-bit DAC
• All outputs short circuit protected
• Hardware 8-bit PWM control for half-bridge andhigh-side drivers
• Over-temperature protection with automaticdriver shut-down
• Over-voltage and under-voltage detection withautomatic driver shut-down
• Overload and open/short diagnostic for alloutputs
• Embedded LIN 2.2/SAE J2602-2 transceiver
• Embedded ARM®Cortex™-M0 microcontroller
• 8 user-configurable GPIO pins
ZAMC4100主要优势:
• Multi-chip-module concept with high functionalintegrity
• Low number of external components
• Small footprint plastic QFN package withexposed pad allowing better thermalmanagement
• AEC-Q100 qualified product, optimized forautomotive environment
• Smart power management concept for achievinglow sleep current consumption (<80μA)
ZAMC4100典型应用:
• Automotive exterior rear viewmirror controllers
• Intelligent DC motor drivers
• Stand alone or slave actuatorcontrollers
• Power management for lowvoltage electrical systems
• Single chip solution foroptimized white goods'controllers
图1.ZAMC4100框图
图2.ZAMC4100汽车反射镜马达控制应用电路图
ZAMC4100评估板
This manual describes the use of the ZAMC4100 Evaluation Kit and the ZAMC4100 Evaluation Software.
The ZAMC4100 Evaluation Kit includes the following as:
• ZAMC4100 Evaluation Board V1.0 (EVB)
• ZAMC4100 Adaptor Board V1.0
• LIN Communication Board V1.0
• USB cable
• Segger J-LINK® Lite ARM® JTAG debug probe* (optionally included in the Evaluation Kit depending on the order code)
图3.ZAMC4100评估板外形图
图4.ZAMC4100评估板和适配器外形图-连接器和区块图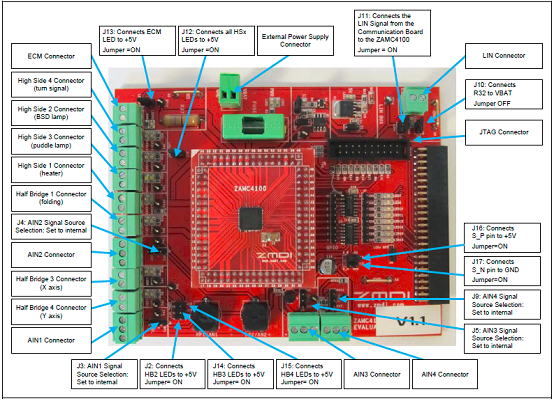 图5.ZAMC4100评估板元件分布图
图6.ZAMC4100评估板电路图:适配器板
图7.ZAMC4100评估板电路图
ZAMC4100评估板材料清单:
详情请见:
http://www.idt.com/support/document-search?search=1&category=79-176651&filters=category%3A79-176651
IDT_ZAMC4100_DST_20160126.pdf
IDT_ZAMC4100-Eval-Kit-Description-160415_MAN_20160421.pdf